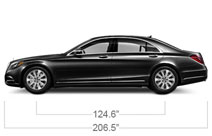 Oh Lord, Won't You Buy Me a Mercedes-Benz,
My Friends All have Porsches, I Must Make Amends....
- Janis Joplin
I took a test drive in a Mercedes Benz S550 sedan today.
~
Man, I looked good in that car.
~
With an 80 gig hard drive managing the electronics, it has incredible features regarding GPS, Bluetooth Cell Phone, Turn reactive seats that have built in massage, Sirius Radio, a CD player that handles 6 CD's at once, and other stuff that I can't remember.
~
It seems like every feature has been creatively considered and addressed. Plus it rides so solidly and smoothly that even stop and go Boston traffic is a joy to be stuck in. The Germans really found out how to engineer luxury into this vehicle.
~
One of these days, you will see the MOAM tooling down the road in a car like this.
~
One of these days.