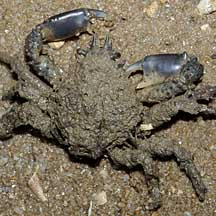 This photo of a toad crab that I pulled off of the Web doesn't really do credit to the size and grossness of the three that I extracted from my lobster traps this morning. Big, muddy, dirty with long legs ending in a spike and long dangling claws. They definitely looked like something from a bad science fiction movie.
~
They were strong and grasped hard on the metal slats of the trap. Had to really wrestle them to get them out and rebait the traps and I wasn't about to grab them with my hands... even with rubber gloves on. So I poked them with my bait net and agitated them enough to get them to let go of their grasp which enabled me to flip them out of the trap and back in the ocean.
~
I guess a real lobsterman would just crunch them up and toss them overboard.... and I would too if this was my livelihood... but I generally like to let the critters I run into live if possible, so it took a little time to deal with these crabs.
~
It seems weird that the lobsters that I catch in the same traps have clean and shiny shells as well as do the rock crabs. But these things are caked with mud and dirt. I can't imagine eating one of these ugly dudes, but apparently there is a fishery for them, in Canada.